Positive Behaviour Support on the NSW Mid-North Coast: Forster, Taree, Gloucester & more
Gina McClure with Melody Dexter
21 September 2023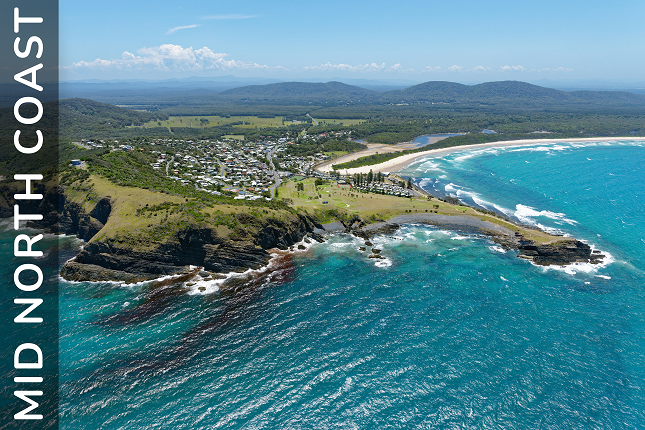 Positive Behaviour Support on the Mid North Coast of NSW is becoming easier to access, with behaviour support practitioners located throughout the region, in areas including Forster, Taree and Gloucester.
Today we're excited to introduce Gina McClure, PBS practitioner in the Mid North Coast region. Gina brings diverse experience in the community services and disability sector, having provided support work for many years and as a member of allied health teams.
With a Bachelor of Music (Therapy) from the University of Melbourne and qualifications in Community Services and Neurologic Music Therapy, Gina has enriched the lives of individuals through a creative arts program and her private practice and studio and now as a behaviour support practitioner.
Gina is a passionate advocate for regional and rural communities and their access to therapy in the Mid North Coast region of NSW.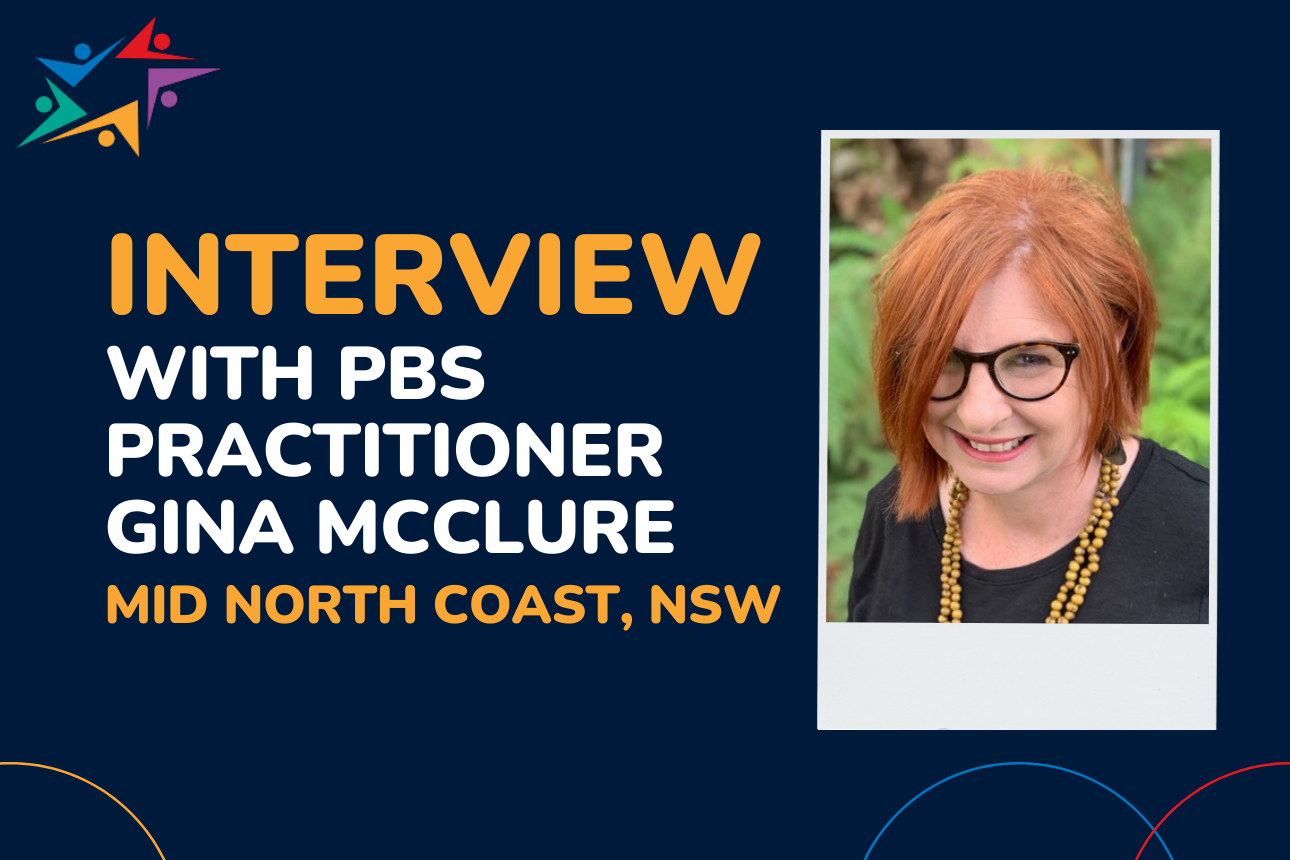 Positive Behaviour Support Practitioner on the Mid North Coast of NSW
Gina, it's wonderful to have you join our team on the Mid North Coast of NSW. Tell us about you!
Hi, I live on the Mid North Coast with my partner, I also have two wonderful adult children.
I returned to this area 25 years ago now, after studying, working and living in Melbourne for 10 years. I love music, art, getting out in nature and of course my work!
Tell us about life in Mid North Coast, what's it like living in the Barrington Coast hinterland? What are best places to visit in the Barrington region?
Living on the Mid North Coast is great, we have wonderful beaches and national parks, all at our doorstep. Tourism is growing, with local cafes popping up everywhere, festivals and new businesses. Of course we also do quite a bit of driving in between!
My favourite place is the Antarctic Beech Forest walking track in Barrington Tops National Park, where you can walk in the amazing Gondwana rainforest, enjoy total seclusion and reconnect with nature. It's hard to choose, as the beaches at Pacific Palms are also a favourite. We also have a wonderful sense of community — the area is made up of many small towns, schools and villages that make up our diverse and strong fabric of community.
NDIS Provider on the Mid North Coast of NSW
Tell us about your experience working as an NDIS provider on the Mid North Coast of NSW.
I've worked in a diverse range of roles, much of my time has been spent working as a disability support worker and team leader, providing respite services, group programs and working with people across all ages in the disability, community services and aged care services.
My training was undertaken in Melbourne, where I worked as part of an allied health team as a registered Music Therapist, allied health coordinator and in special education. During COVID times, I enjoyed working with individuals in my own therapy space, supporting participants and their families. This scope of experience has enabled me to understand working in a person-centred way, with empathy and also to think outside the box.
What have been your key takeaways from working in the disability sector?
One of many key takeaways is that we are all unique, we can all learn from each other, everyone has something important to contribute. By being proactive, offering choices and making the person and the people around them the centre of decisions, we increase the chance of overcoming challenges and successfully helping someone feel empowered to have greater freedom. Most importantly, we help them enjoy their life to the fullest.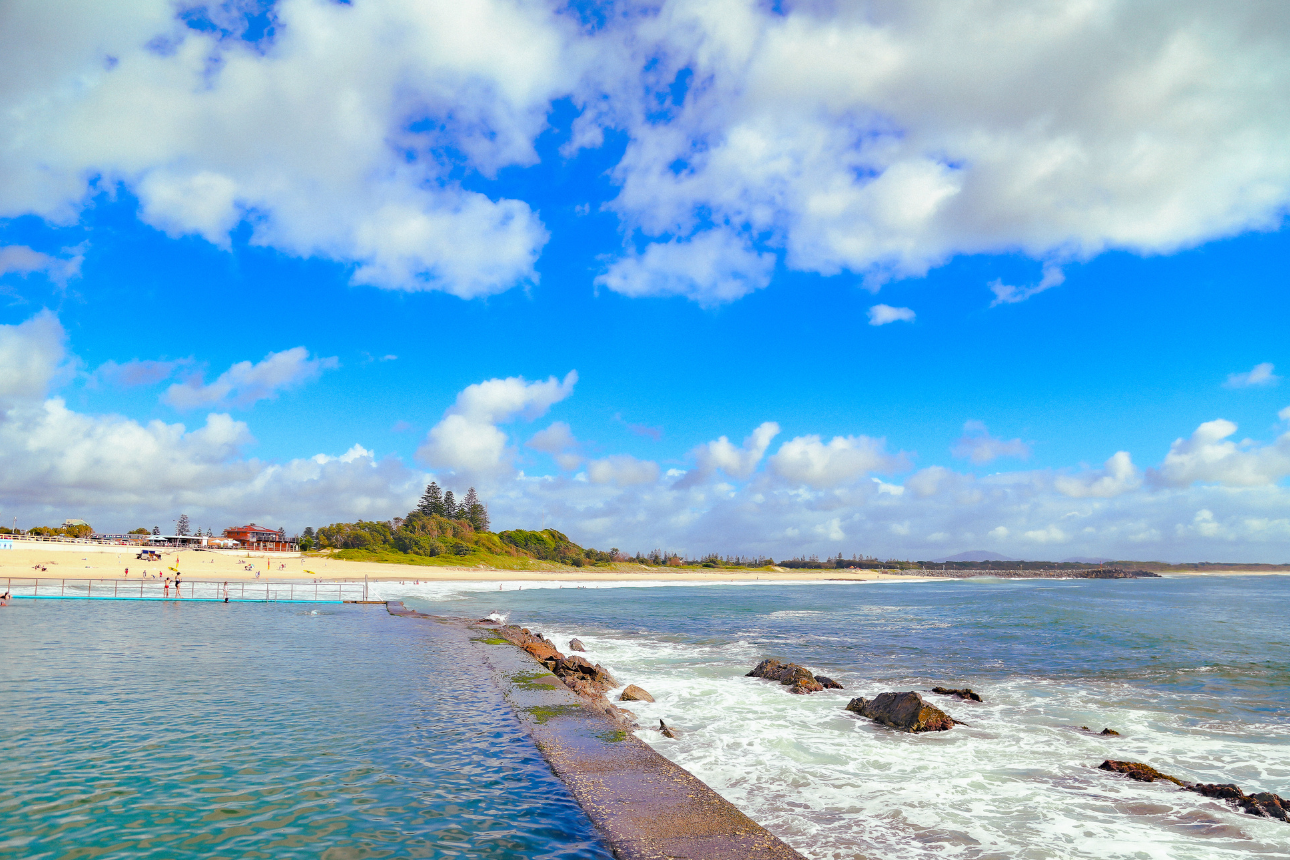 About Positive Behaviour Support on the Mid North Coast
There are many individuals in need of Positive Behaviour Support in metropolitan areas — how would you say this differs in the Mid North Coast region?
I think Positive Behaviour Support is relatively new in this area, in particular the holistic way Ability Consultants approaches and implements these supports. Participants living in a rural or regional area are often not able to access the same support as in metro areas. Often, for health and therapy services, they need to travel, engage in telehealth or join waiting lists, which can be frustrating for participants and their families.
One of my goals is to facilitate and offer greater opportunities for people to access these services in this area.
You've contributed to the disability sector for quite a few years now, can you give an example of how Positive Behaviour Support can improve a person's quality of life?
It is hard to pinpoint one example, as Positive Behaviour Support may be as simple as making a few changes to a person's daily routine at home or school, introducing some sensory equipment and strategies or working out what the person may be trying to communicate.
There are also more complex situations, such as a transition into supported living. In this scenario, a person may need a more detailed assessment and behaviour support plan. It may involve working with families and support staff to develop strategies and training on how to implement a PBS plan.
Positive Behaviour Support can also involve adjusting a plan and monitoring behaviour over a longer period of time. Everyone is so individual and likewise, there is no one-size-fits-all when it comes to Positive Behaviour Support.

As a behaviour support practitioner, do you specialise in specific diagnoses or age groups?
I work with all ages and populations, such as NDIS participants with autism, dementia or intellectual disability. I love working with the person, their strengths and challenges, and enjoy finding out about their likes, dislikes and passions. Working in a collaborative way with the people around them is an important part of the process too.
Which areas can you travel to on the Mid North Coast of NSW?
I travel to Taree, Forster, Gloucester and surrounding areas, and also offer telePBS support. TelePBS is similar to telehealth, where individuals can access Positive Behaviour Support even if they don't have a practitioner close to their location. (You can find more information about telePBS here.)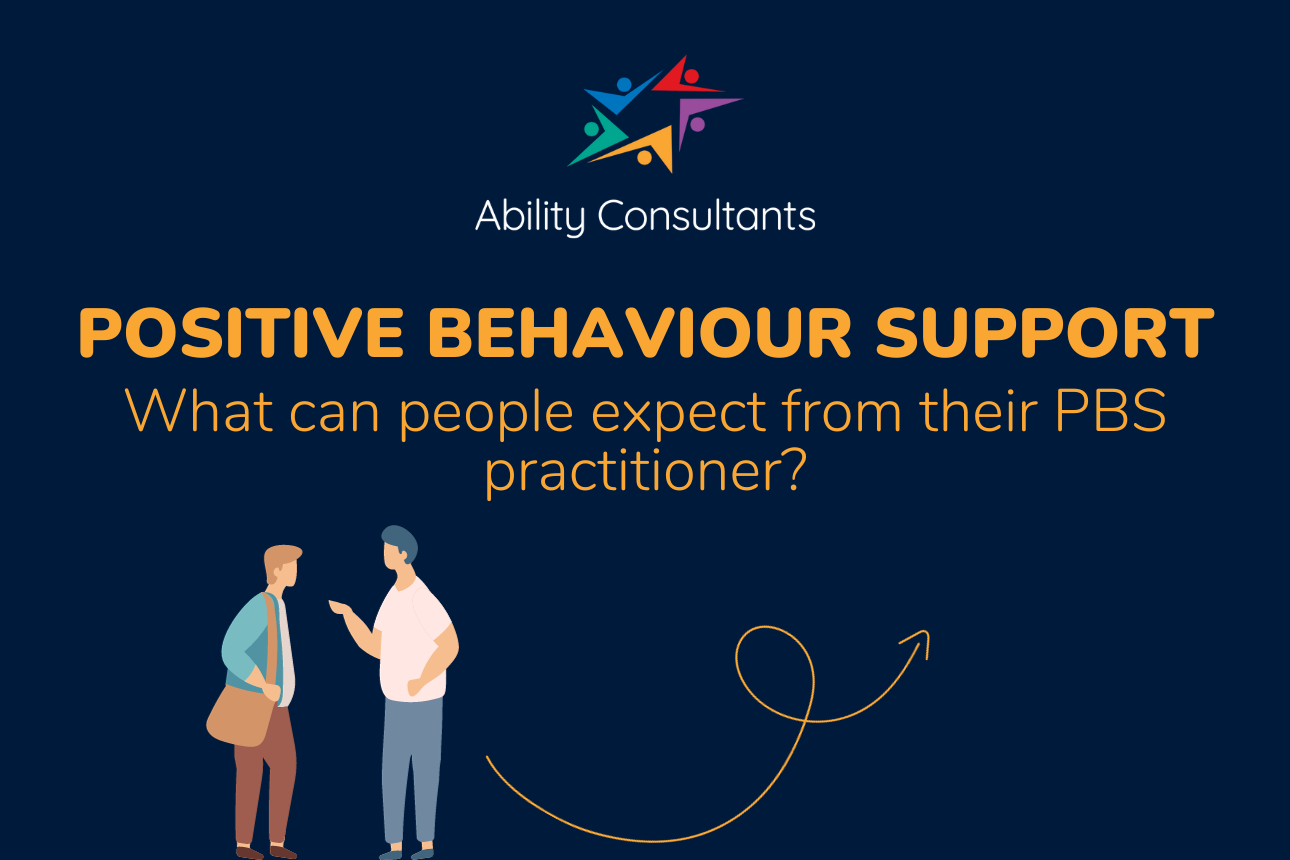 What can NDIS participants and their families expect from Positive Behaviour Support on the Mid-North Coast?
Participants can expect professionalism, face to face meetings or telePBS. It is great to get to know the person and build a picture of their life, needs and goals. We focus on any behaviours which are causing concern or safety issues, or affecting their daily life.
We look at the services and support they are accessing and we may look at how they can be made more accessible. We consider how we can work together to develop skills in the timeframe we have to help improve quality of life. A behaviour support plan will also include strategies and recommendations for the future.
Make a referral for Positive Behaviour Support
To make a referral for Positive Behaviour Support, we have an online referral form that you can access anytime. If you're not quite ready or you have questions, please please feel welcome to call us on 1300 694 625 or send a message anytime using our contact form.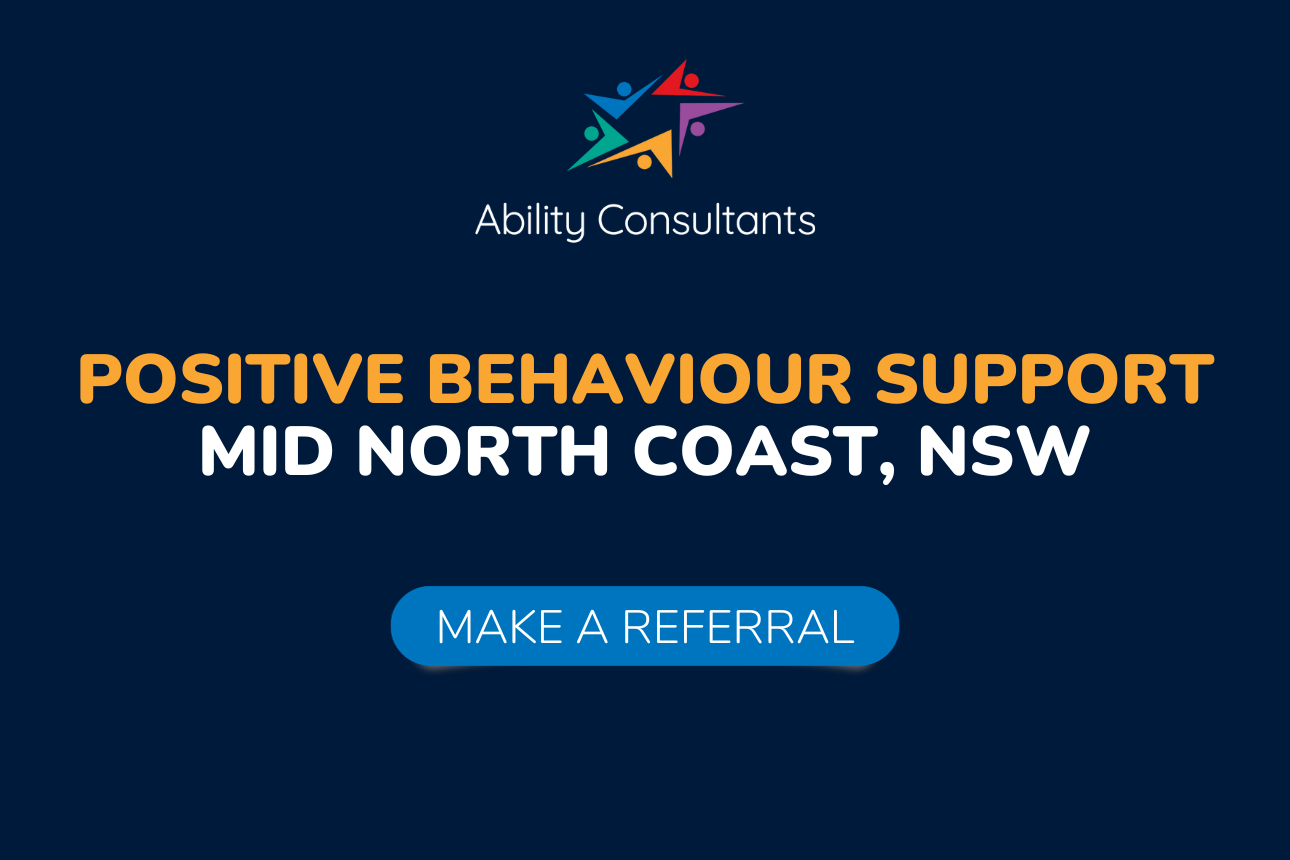 Positive Behaviour Support resources
We provide Positive Behaviour Support throughout Australia, including the Mid North Coast of NSW, in towns such as Forster, Taree and Gloucester.
Here is some useful information about Positive Behaviour Support: