ABC Western Plains: Jess and Hayley discuss Positive Behaviour Support in Central West NSW
Melody Dexter
17 July 2023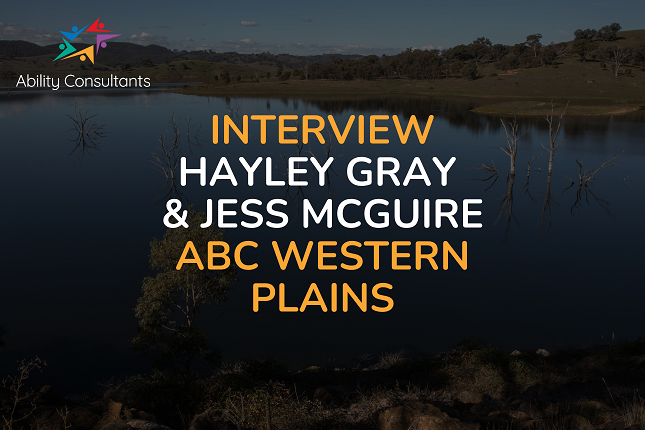 This month, Hayley Gray caught up with Jess McGuire from ABC Western Plains. Hayley is a Behaviour Support Practitioner and Team Leader at Ability Consultants. She lives in Mudgee, in the New South Wales Central West region and supports NDIS participants, helping to improve their quality of life.
Huge thanks to Jess McGuire and Mel Dearmer from ABC Western Plains for shining a light on how Positive Behaviour Support can make a difference.

Transcript
[00:00:06] Jess McGuire: It's twenty minutes past seven. Now the NDIS is a big topic of conversation at the moment with the ABC's Disability Affairs Unit currently doing a national deep dive investigation into the government's scheme and wanting to look for people's stories, about its successes and its failures as it celebrates ten years in existence. Now one of the people working as an NDIS provider is Hayley Gray who is a behaviour support practitioner based in Mudgee.
[00:24:14] Jess McGuire: She says that utilising Positive Behaviour Support services in the Central West can really have a meaningful impact on people's social connections, skills and give them more freedom. So one of the first questions I asked when we met is what is Positive Behaviour Support exactly?
[00:41:16] Hayley Gray: Positive Behaviour Support really focuses on the individual's needs, often in regards to their specific disability. The way that we can help them overcome some challenges sometimes around a physical behaviour, or it could be a communication need and we put some positive strategies in place to help them meet that unmet need.
[01:07:00] Jess McGuire: Is it a form of help that has been around for a while or is it a fairly new concept?
[01:12:24] Hayley Gray: I think for a long time our community has known that positive works better than negative. What this system, that we subscribe to at Ability Consultants, gives us is the ability to spread that across all environments for the person with a disability. So giving that consistent message, the recommendations and decisions that we make with the individual, with the participant based on data that we collect and evidence that we can use to then make really informed decisions so that they're getting a consistent message.
[01:53:07] Jess McGuire: Who are the kind of people who can benefit from Positive Behaviour Support?
[01:57:15] Hayley Gray: Anybody, anybody that wants to communicate and improve their quality of life. What we see a lot of through the NDIS are people with disabilities, sometimes they can be quite complex, things might be changing in their lives: they might be getting older, they might be moving, their type of employment or residential area that they're in might be changing. And so we see at those times of adjustment, it often does come to light that they would like to access some Positive Behaviour Support.
[02:35:11] Jess McGuire: So it's not just about identifying areas where things might be able to change for the better, but it's about finding people who are going to be able to help implement and encourage those changes.
[02:45:22] Hayley Gray: Definitely. One of the main messages through the NDIS is choice and control. So by being able to offer this service, go through this assessment process, keeping the participant right at the centre of all of the decisions and choices means that yeah, it might be identified that we need to vary supports or an existing support may need to adapt their model to better suit this person's needs.
[03:14:01] Jess McGuire: So what are some of the behaviours of concern that might be identified when you're trying to figure out a way to assist someone?
[03:21:11] Hayley Gray: They vary so much just like the individuals that we work with, so we can see behaviours of concern that are perhaps violence towards others or towards themselves, right through to people being so compliant that they're vulnerable and at risk of being coerced. And that's also something that is concerning in their life and impacts their quality of life.
[03:46:24] Jess McGuire: So I know that this is probably going to depend on the person and the issue, but can you tell me some of the Positive Behaviour Support strategies that might be implemented?
[03:56:18] Hayley Gray: Yes. So again, yes, you're right, it would vary from person to person and depending on their disability diagnosis, it could be something as simple as changing where a child sits in a classroom, or it could be around a personal hygiene routine where somebody is struggling to learn some sort of skill, but they don't know how to communicate that, so we're seeing refusal to participate. So we need to work through what kind of schedule or skill-building is going to support them in that area.
[04:32:14] Jess McGuire: And I'm sure that when we're dealing with disability, there is a huge spectrum of how it affects certain people. And for some people, they may be able to articulate what they need help with. For others, depending on what the disability is, they might not always be able to put into words why they don't want to do something or that they're so scared that they're acting out. Is that fair to say? And is that a challenge for you in your job?
[04:55:04] Hayley Gray: I think as humans, we can all resonate with the fact that sometimes we can't find the right words or the right communication. So if we are working with people with an intellectual disability or somebody that has grown up not really being offered real choices, it can be a concept that they do struggle with. It's really important to incorporate all of the stakeholders around that person to get as much information as possible so that we can make really informed evidence-based decisions.
[05:27:15] Jess McGuire: When we say disability, it is a really broad term. What kind of disabilities do you work with as part of your role in Positive Behaviour Support?
[05:36:24 Hayley Gray: You're right, really broad. So I work from probably the age of eight, right through to 66, 67 in terms of the age range on my caseload. I work with people that are mobile and not mobile, verbal, non-verbal and that come from all different socio-economic backgrounds as well.
[06:01:01] Jess McGuire: What do you love about the work?
[06:02:16] Hayley Gray: No, two days are the same is really exciting to me and the fact that I work within an organisation that has really strong ethics. Even though I work remotely, I always have access to mentoring and supervision and guidance. And I also like the fact that at the end of the day, we are looking out for people and their human rights and making sure that they're getting access to the freedoms that they want and they deserve.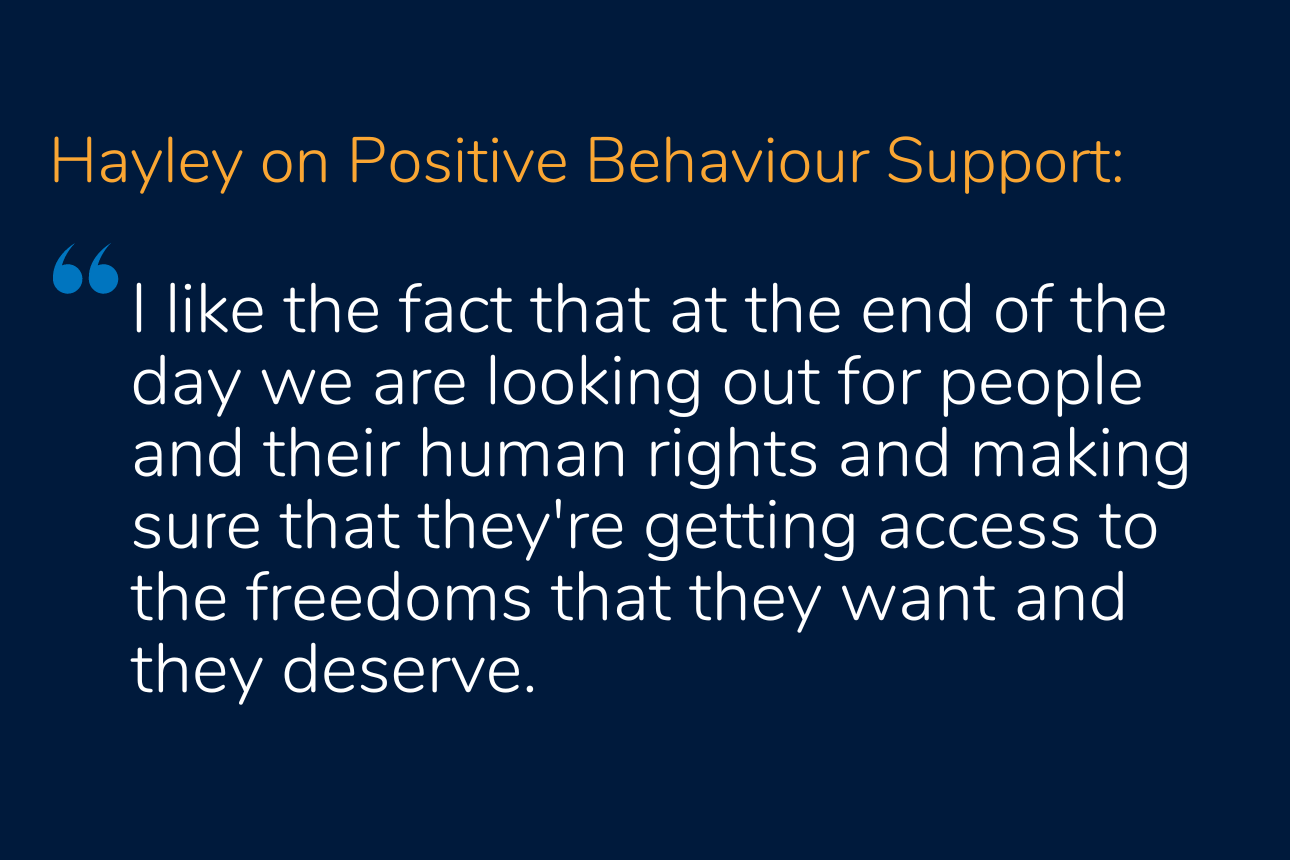 [06:34:11] Jess McGuire: At the ABC, our Disability Affairs Unit are doing a national deep dive investigation into the NDIS and you know, that's the good part, but it's also issues of fairness and cost, accuracy and suitability. We know that it can be hard to navigate the NDIS, but for people who successfully do and then they start using your services, what sort of things do you hear from them about that process?
[06:58:06] Hayley Gray: We hear a lot of not [being] able to access supports. The providers aren't there, the therapies aren't available. I think living in regional New South Wales, that has really been highlighted. I've worked in the disability industry before NDIS and now I'm part of the NDIS process. So I would say what I'm hearing in our Central West region is a lack of providers to support these people, to have the best quality of life that they can.
[07:32:01] Jess McGuire: What's your ideal change of situation, like what would you immediately like to see implemented that could have a really positive impact on people in the Central West?
[07:41:11] Hayley Gray: I think education for existing providers on how they really can offer real choice and control, how to give people that may not have the capacity to make intricate decisions, how they can support them, to increase their knowledge around what they can choose within their own community so that we can really highlight the skills that are existing with people with disability as well as their untapped potential.
[08:13:01] Jess McGuire: Thank you so much for your time today.
[08:14:17] Hayley Gray: You're so welcome. Thank you.
[08:16:02] Jess McGuire: That was Hayley Gray who is a behaviour support practitioner who is based in Mudgee, talking about her experiences working in the NDIS, amongst other things. We are coming up to local news after that. We know that recovery continues in many parts of the state from last year's multiple devastating floods. We're going to speak to the Coordinator-General of the federal government's National Emergency Management Agency, who is in the Central West today. All that and a whole lot more coming up on ABC Western Plains and Central West with me, Jess.