I'm a parent — what can I expect from telePBS?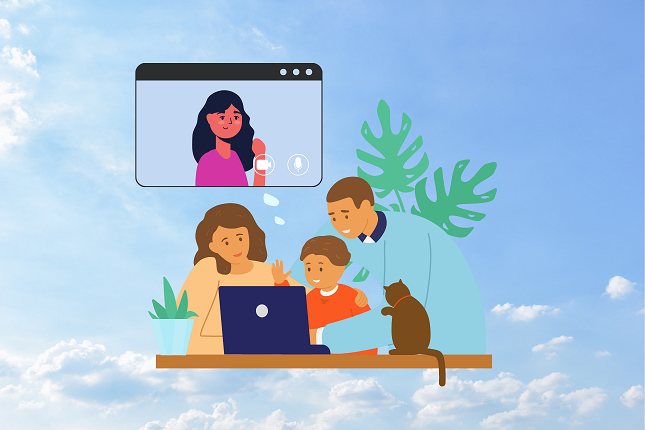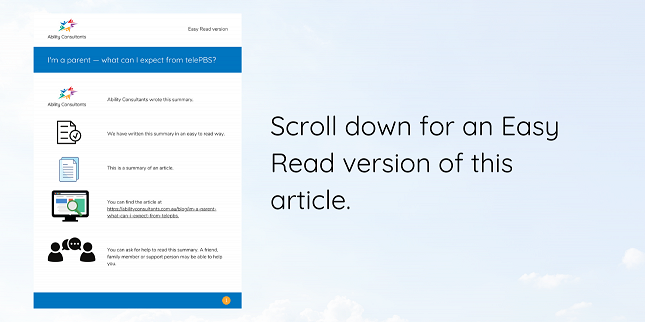 Are you a parent looking for positive behaviour support for your child? One of the questions you might be asked is, "Are you open to telePBS?".
Before you answer, it's important to keep an open mind.
Many parents jump at the opportunity whilst others are hesitant, insisting that only in-person support will work. We trust parents and guardians and your role as an expert in your child's life. We recognise that you play a key role in the success of your child's support and for this reason, when we try telePBS, we work closely with you to ensure your child receives the best outcome possible.
What is telePBS?
So first, what is telePBS? TelePBS is the delivery of positive behaviour support (PBS) using technology. TelePBS is sometimes known as telepractice.
At Ability Consultants we use technology in all elements of behaviour support. We make phone calls, video calls, organise meetings in-person and online, send emails and text messages. Technology is central in our ability to gather information and helps us understand your child and their needs.
With the presence of ever-changing health directives, we've found many children have benefited from ongoing support provided online. Online support is better than none, and in many cases it can be the better option.
There are many benefits of telePBS, which you can read about in our article 5 reasons to choose telePBS.

We highly recommend watching this video produced by The NDIS Quality and Safeguards Commission:
What parents can expect from telePBS
There are many elements of positive behaviour support. Here are some of the steps you can expect with reference to telePBS.
Initial contact and meeting information
Once your child has been allocated a positive behaviour support practitioner, your practitioner will contact you to set up an initial meeting. If the initial meeting will be via telePBS and will take place online, your child's practitioner will send you an email including a private Zoom link and details of your meeting day and time.

First meeting
You can join the meeting using your mobile phone, tablet or computer. You don't need to have a Zoom account in order to join the call and you can even join by making a regular phone call. For information on how to join a Zoom call, please see our articles:
Information gathering including observations
An essential part of positive behaviour support is information gathering. This part has always been done through a mixture of in-person and telePBS methods — phone calls, emails and in-person or online meetings. You'll be asked for supporting documents and to complete a Functional Interview Assessment.
At times, other members of your child's support team might be invited to join a meeting. Support people such as your child's occupational therapist, speech therapist, psychiatrist etc.
In addition, observations are an important part of behaviour support. TelePBS observations can involve your practitioner asking you to place your laptop or tablet in the room so they can observe your child's behaviour either via an online meeting or a recording you make for the practitioner. TelePBS observations have the added benefit of reducing the impact the practitioner may have on your child's behaviour, since they aren't physically present.
Meetings with your child
Practitioners may also meet with your child via telePBS. Children and young people are highly adaptive and many are familiar with tablets, computers and online apps such as Zoom.
In a one-on-one video call with your child, your child's practitioner may spend time getting to know your child using online resources, conversation and offline games such as lego or going on a treasure hunt. Skills and strategies can often be taught using online resources, such as interactive whiteboards, games or watching a video to show a specific behaviour followed by a discussion about what they've watched. Older children such as teenagers might benefit from more hands-on activities such as creating a budget together or preparing a healthy meal with their practitioner.
Will telePBS be effective?
It's easy to assume that telePBS just won't work: perhaps it's because your child has a short attention span, or perhaps they are nonverbal. At times, telePBS will be a challenge and might not be the best option, however, we've found that giving it a go can lead to positive outcomes.
Our practitioners at Ability Consultants are guided by a strong, experienced team of mentors and undertake telePBS training to ensure they are well prepared to support children and young people online. Our practitioners individualise all telePBS sessions structuring them to ensure their clients stay interested and engaged.
Without the need to claim travel time, telePBS sessions can be shorter, which means that if your child or teen can only engage for 15 minutes, that's totally okay. And it's a bonus to save on travel charges!
If you've tried telePBS before and it didn't go well, speak with your child's practitioner and they will work with you to find what works well for your child and their support team.
Remember, if one session doesn't go as planned or as well as everyone would like, the next session might not be the same and could surprise you with its effectiveness.
Where can I find more information?
Find out more about telePBS and creative assessment and planning in this video by the NDIS.