5 reasons to choose telePBS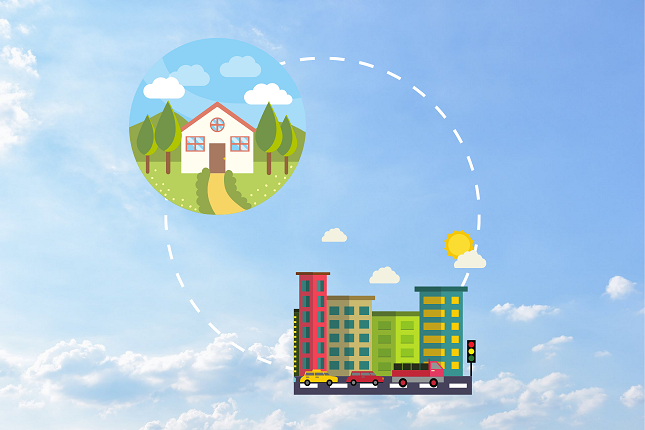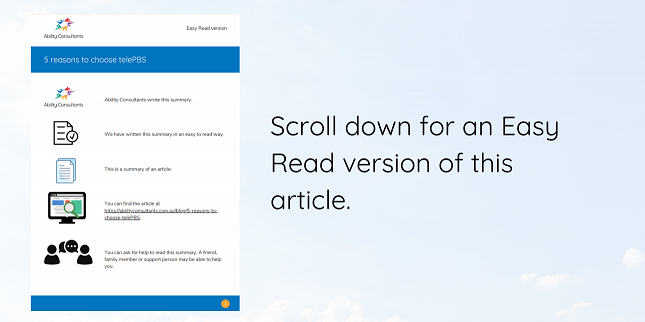 If you live in a rural or remote area, choosing telePBS makes sense. But what if you live in the metro area — why would you choose telePBS?
For many years, people living in rural and remote communities have benefited from medical and allied health support through telehealth and telepractice, including speech therapy, psychology, behaviour support and occupational therapy.
With ever-changing health directives and the need for physical distancing, telehealth and telepractice are becoming the preferred choice for many individuals. In the realm of behaviour support, we refer to telepractice as telePBS, which is when you participate in positive behaviour support using technology. Find out the basics of telePBS in our article What is telePBS?
Five benefits of telePBS
#1 More choice
Imagine you're planning a day out and you're thinking of catching the bus. Maybe you've always caught the bus and it's something you're familiar with: you know where it's going, how you feel on the bus and what to expect.
Now imagine there's a new light rail near your home. Your friend said how amazing it was and perhaps another said it's not all that it's hyped up to be. You might feel a little apprehensive about trying it but you know it will take you to the same destination. Maybe it's worth a try?
Continued support
At times, public health orders and lockdowns can restrict in-person support. The good news is that positive behaviour support can continue through difficult circumstances such as when travel restrictions are in place or when we need to be more cautious with our health. It creates the physical distance needed to prevent the spread of illness and creates social connection to prevent the isolation that can come from lockdowns and social distancing.
#2 More flexibility
Join from anywhere
You don't need to be at home! You can meet with your practitioner online or over the phone from wherever you feel comfortable. Spending the day at the park? No worries, hop on your tablet or smartphone, pop in some earphones and join the call.
Are you a parent working in the city or travelling interstate but you'd like to participate in your child's support? No worries, simply log in to join the call, even if you can only join for ten minutes. TelePBS has been a great way to improve collaboration with support teams, with individuals being able to participate from anywhere and with more time flexibility.
Varied meeting options
Do you have trouble sitting through a one hour meeting? Don't worry, me too, but don't tell my boss ;)
One of the challenges of in-person meetings is that the need for travel puts pressure on you and your practitioner to make the most of your appointment, which might be 30 minutes, an hour, or more.
Without the need for travel, you have more flexibility with how long your session will run for. Perhaps you're comfortable with 15 minutes — and that's okay. Instead of meeting for an hour once a fortnight, you and your practitioner might decide to have 4 x 15 minute catch-ups through video call.
Meeting online also means you have a few extra ways to work with your practitioner — you might watch a video together and talk about what you've watched, play an online game or even work on your plan together.
#3 Better access
Better access in regional, rural and remote areas
A 2020 report by the National Disability Services states that there are significant shortages of behaviour support specialists in regional, rural and remote areas. Our vast landscape can make travel difficult and accessing support services near home can sometimes be near impossible. If you live outside of the metropolitan area, telePBS gives you access to practitioners from almost anywhere which can mean shorter wait times and most importantly, hope.
Better access in metropolitan areas
Support can still be challenging to access in metropolitan areas — for example, perhaps you live in an area which has less practitioners or more traffic, making it difficult to be matched to a practitioner nearby. In other circumstances, you might need a practitioner with specific experience and they might be located on the other side of the city. Choosing telePBS means that you aren't restricted to working with practitioners in your local area and sometimes can result in receiving support sooner.
More practitioners
All behaviour support practitioners at Ability Consultants go through a rigorous selection process and induction. They undertake specialised training and receive ongoing one-on-one mentoring. Although all our practitioners are qualified to deliver positive behaviour support, at times you may need or prefer a practitioner with specific expertise or qualifications.
For example, some practitioners work primarily with young children or adolescents while others have more experience working with older people. Other practitioners have expertise working with people with autism, intellectual disabilities, dementia or other diagnoses. Saying yes to telePBS gives you better access to practitioners and more choice.
#4 Better use of funds
Save NDIS funding
The NDIS includes 30-60 minutes of travel for each in-person appointment. Without the need to drive to appointments, less funds are used for travel, which means more funding can go directly to your support. Sometimes this means more time for training and coaching, such as one-on-one meetings.
In addition, technology enables practitioners to demonstrate strategies using video. These videos can be pre-recorded and saved for other members of your support team. For example, if your support worker or accommodation manager changes, instead of using funding to train the new person from scratch, your practitioner can draw upon the videos as part of their training.
#5 Less anxiety
Meeting someone new can sometimes be a daunting experience. Meeting your behaviour support practitioner over the phone or online can be a stepping stone towards meeting in person or it could be your preferred option in the long term. You can even start with your camera off and decide when you want to wind down your meeting.
More privacy
Normally our practitioners travel to your home to meet with you and your support team, but this isn't always needed. If you feel anxious about having someone visit you at home, we can meet with you on a video call. This can help you to keep your home private and might mean you'll be less worried about answering the door, how tidy your home is or how you might feel having a new person visit your home. You can even wear your fluffy rabbit slippers and no one will even know.