Accessible Communication at Ability Consultants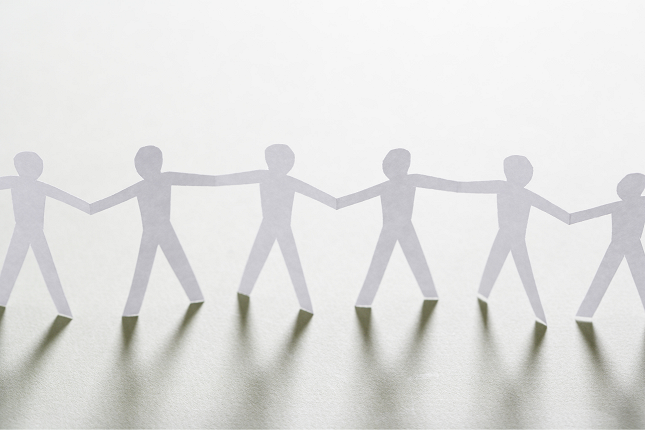 Positive behaviour support should be easy to access.
This includes how we communicate.
Ability Consultants has been awarded the Communication Access Symbol.

This means:
we will treat you with respect and dignity;
we will give you time to get your message across; and
we can offer tools to help you get your message across so that we can understand your needs.
How we make communication easier
We can help you complete a form over the phone.
If you are deaf, or have difficulty hearing or speaking, we can use the National Relay Service.
We can meet on a video call.
We can use Zoom or Google Meet for our video call.
We can use our Communication Book to communicate.
We can organise a free interpreter for NDIS participants.
We can provide Easy-English or Easy-Read documents.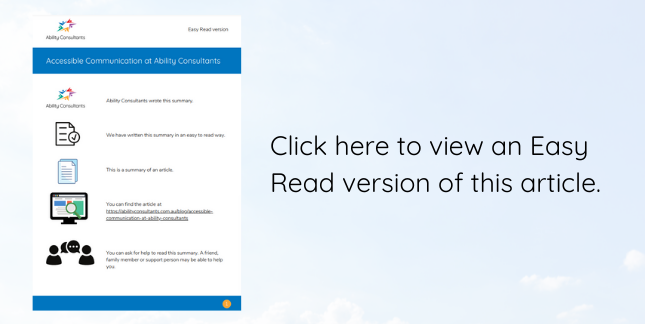 ---
For further information, read on.
Accessible communication at Ability Consultants
It's important that positive behaviour support is easy to access — this includes easy, accessible communication.
Ability Consultants is leading the way in New South Wales, as one of the first organisations to be awarded the Communication Access Symbol. You can read more about the Communication Access Symbol here.





This symbol shows that our team will:
treat you with respect and dignity;
give you time to communicate your message; and
be open to different ways of communicating to ensure we understand you.
How we make communication accessible
Phone
You might be asked to complete an online form, such as our referral form or functional assessment interview. If you need assistance, please call our team on 1300 694 625 and we would be more than happy to assist you over the phone.
If you are deaf, or have difficulty hearing or speaking, the National Relay Service can help you contact us using the phone.
Email
If you prefer not to communicate verbally, you can email us using our contact form or by emailing us at [email protected]. Our email is monitored during business hours: 9am to 4.30pm EST Monday to Friday.
Through email, you can find out how to make a referral, ask questions about behaviour support and raise any concerns you may have.
Video calls
We can arrange to meet with you on a video call, using your mobile phone, tablet or computer. If you'd like to, you can even include another person on the call. Let us know that you'd like to book a video call and we can contact you through Zoom or Google Meet.
During a video call, we can use our Communication Access book. This tool lets us use pictures and diagrams to communicate.
You can use your hand or eyes to point to what you want to say, or we can point and you can answer yes or no in a way that works for you. We can even give you control of our computer and you can type your own message.
Here is a link to our Communication Access book as a PDF.

Interpreter
We can organise an interpreter for NDIS participants and family members who have English as a second language.
We book the interpreter through a national service called Translating Interpreting Services (TIS) and the support is free to NDIS participants when the services are used for implementing their NDIS Plan.
Your interpreter can attend in-person meetings, video calls and phone calls.
Easy-English and Easy-Read documents
A number of our website articles include Easy-English or Easy-Read versions, which are useful when English is not your first language or if you have difficulty reading large blocks of text.
If you find one of our documents or articles does not include an Easy-Read version, and you would like one, please email us at [email protected].
Team training
Our team takes part in Communication Access training. This training helps us to communicate well with people of all communication abilities.
Our team also takes part in telePBS training. TelePBS is the delivery of positive behaviour support using technology. Sometimes, telePBS is called telepractice. TelePBS can include phone calls, video calls, email and even online chat.